As promised, here's the breakdown of my Edie Sedgwick look!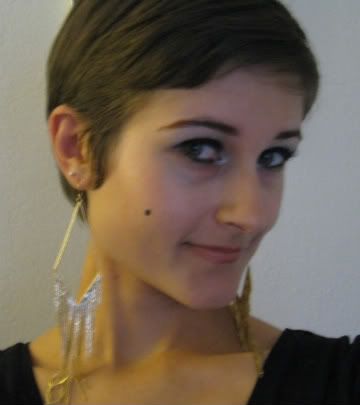 I used my standard base for my face -- Perfekt Skin Perfection Gel as a primer, Laura Mercier Tinted Moisturizer as foundation, Dior Skinflash Radiance Booster pen under the eyes, and Cargo blu_ray Pressed Powder to finish.
I did my eyebrows while I let my eyeshadow primer (Too Faced Shadow Insurance) set, using the Maybelline Expert Brow Pencil in Dark Brown. Normally if I do my brows, I'd use my DuWop brow wax and powder duo, but since Edie was known for her heavy brows, I went to town with the pencil. It seems a little red to me, as I didn't want to go for a nearly-black eyebrow pencil, but it did its job.
For the eyes, after my primer set, I used the white side of the MAC Persona Screen Vinyl Mineralize Eyeshadow (from 2006's A Muse collection) all over the lid and up to the browbone. I then used MAC Eyeshadow in Suspicion (black with a little gold, from Nocturnelle in 2006) over the lid and really packed it on as much as it could go. I lined the upper and bottom lids with MAC Fluidline in Blacktrack, being sure to get really thick lines on the top, as well as Stila Kajal pencil liner in Pearl (white) at the inner corner. I used Too Faced Lash Injection mascara, and then I added false lashes on top.
I received several pairs of
Revlon Fantasy Lengths eyelashes
to try out, and the pair I used for Edie are the
Intensifying
with the self-adhesive strips. I've worn false eyelashes before for stage and other costumes, so I'm very familiar and comfortable with wearing false eyelashes. I know the tricks and tips (trim them from the inner corner, use a toothpick to apply eyelash glue), but I haven't worn them in a long time due to wearing glasses all of the time, and worrying that the eyelashes are going to thwack against my lenses. Since I knew I'd be wearing contacts, and you can't be Edie without false eyelashes (you just can't), I was glad I had lashes ready to go.
The Revlon Fantasy Lengths are particularly interesting because of the self-adhesive strip, which you actually remove after wearing -- the lashes themselves are a standard strip, so once you're done with the two sets of self-adhesive strip included in the box, you can use them with regular eyelash glue. They stayed extremely well and stayed on through the night, which was actually a little bit of a problem at first when I initially applied them and needed to adjust them (as you do). I even had a mighty sneeze at the end of the evening, and worried I might have sneezed my lashes off (a reasonable fear!), but they stayed right on.
At the end of the night, when I pulled them off, I noticed some of the pigment from my eyeliner and eyeshadow was stuck to the adhesive strip (as in, the top of the adhesive strip was shimmery white, and there was a little bare line on my eyelid once I removed the lash strip), so that would be something to watch out for. Also, because of the thick black self-adhesive, I'd be a little apprehensive that they'd be more apparent if you were wearing a non-black eyeliner; since I was wearing thick black eyeliner and shadow, they blended right in, but if I wanted to wear, say, blue or green liner, I think the adhesive line would be much more apparent than if I used standard dries-to-clear lash glue.
I finished off with the Bobbi Brown Shimmer Brick in nude on my cheekbones, used the Blacktrack Fluidline again for Edie's beauty mark, and lined my lips with MAC lipliner pencil in Subculture before applying MAC Charm Factor lipstick (once again from the 2006 A Muse Collection, and one of my
2007 Favorite Things
).
But that wasn't all -- I wanted to wear perfume for Edie, too. While I initially thought I'd wear Guerlain Shalimar, which is a classic, I realized I had samples of two of the Bond No. 9 Andy Warhol perfumes:
Silver Factory
, which I had a sample of from my favorite perfume boutique, and
Lexington Avenue
, which I received as a press sample. While technically, yes, Edie was part of the Silver Factory days, I felt that Lexington Avenue was a better fit to wear with my (fake) fur and my lashes, as it was much more warm, feminine, and delicious.
The notes for Lexington Avenue are peony, orris, patchouli, sandalwood, cardamom, fennel, almonds, cumin, and crème brulee, which makes it a floral and woody gourmand perfume. It's powdery and vanilla-y, and if you think about the inspiration, which are Warhol's illustrations of ladies' shoes, you can definitely smell a whiff of new leather in tissue paper. It's the type of perfume to wear with a nice coat and cool weather, and it was a perfect fit for wearing with my fake fur collared coat and shoulder-duster earrings.
From top to toe, it was an extremely successful costume, and it was the details, from the drawn-in brows to the beauty mark to the false lashes and the wink to the Andy Warhol perfume that really made it come together for me this Halloween.
images from periodicstyle.blogspot.com and bondno9.com